Welcome to Ahh, There's Hope Massage and Lymphatic Services

Massage therapy is a series of hands-on techniques used to alleviate many areas of stress and tension in one's body. Massage therapy helps to bring nutrition to muscles by increasing blood supply and cleansing the body from everyday stress, injury, illness or grief. The movements utilized in a session can help to ease stiffness and discomfort in joints and muscles, and improve one's sense of well being.
Many physical rehabilitation programs recognize and incorporate Massage therapy for chronic conditions, including back and neck pain, arthritis, fatigue, diabetes, depression, and more. Massage is also an excellent preventative therapy that can help to keep muscles supple, lengthened and healthy.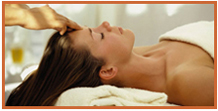 Massage therapy was once considered a great luxury, but in our day and age, many people are recognizing massage as more of a necessity for a healthy active life. Everyday living demands so much from us, isn't it time you gave a little back to yourself?